Welcome to LaunchPad Golf Heritage Pointe! Regardless of your skill level, your golf swing is secondary at LaunchPad. Located just south of Calgary by the prestigious Heritage Pointe Golf Club, LaunchPad's two-story flagship location welcomes thousands of guests through our doors each month. We pride ourselves providing an elevated golf experience, inclusive of those looking for entertainment options outside of hitting balls at a traditional range. From our full-service restaurant, to our bars on each floor, LaunchPad is the perfect social hotspot for you and your friends.
Gameplay Cost
Hour rates listed per suite
/

Groups of 1-6 players per suite

/

Suite rates + GST
$

60

/hour

Prior to 3:00PM: Monday / Wednesday / Thursday
$

70

/hour

After 3:00PM: Monday / Wednesday / Thursday
$

80

/hour

10AM – 11PM: Friday / Saturday / Sunday & Stat Holidays
Hours of Operation:
Monday – Thursday: 11AM – 11PM
Friday – Sunday: 10AM – 11PM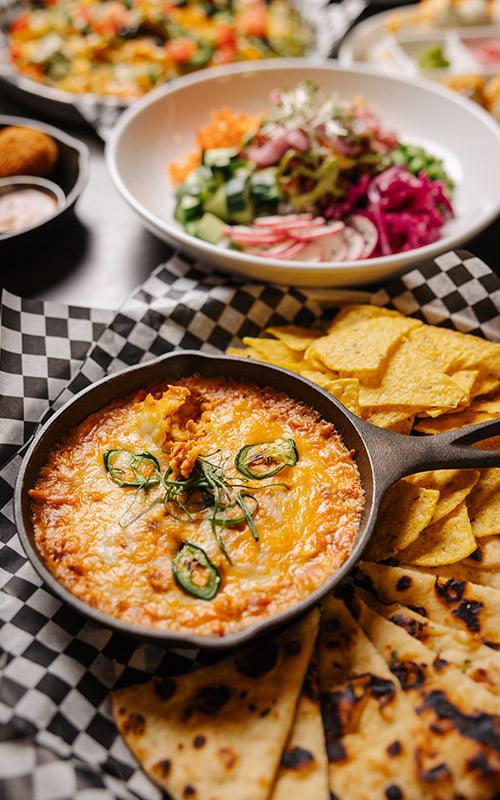 GOOD FOOD
MAKES FOR A GOOD TIME
GOOD FOOD
MAKES FOR A GOOD TIME
Wondering where to host your next social or corporate event? LaunchPad isn't just for golfers, we offer event space for all kinds of groups and occasions. Whether it's a stag/stagette, birthday party, or company Christmas party – we've got you covered! Our team is ready to provide customizable options to provide a bespoke event experience for your group.
Get your team together for some virtual golf fun. Men's, ladies and mixed teams play weekly, earn prizes and have a blast! Gather your team together and join us for our LaunchPad Golf Leagues, to enjoy some virtual golf, socializing and great food. Come for the competition and stay for the party!
Here at LaunchPad Golf, we know golf is hard. That little white ball just sits on the tee and waits for us to do all the work and it can be more than a little frustrating. Whether you're ready for a one-on-one lesson, or a group session with your friends, our team of PGA of Canada Professionals are here for you!
We want to hear from you!
Corporate/Social Events & Advertising Sales:
Scott Wishart | Business Development Manager
[email protected]
General Inquiries:
[email protected]